IAESTE
:: About :: Denmark :: International ::
IAESTE
IAESTE, the International Association for the Exchange of Students for Technical Experience, was founded in London in 1948 as an organisation under UN. In the post World War II time, International and cultural understanding was thought to be important to prevent new horrors. IAESTE was founded by 12 countries and has since grown to cover most of the globe, with more than 80 member countries currently involved and new coming in every year. In January 2005, the organisation was disolved to form the new IAESTE A.s.b.l.
:: Top ::
Denmark
Since April 1993, I have been involved with IAESTE Denmark, which was when I was at the first semester at DTU.
At first, I got involved with Marketing, but quickly shifted to IT - which suited me much better. Over the years I help setup network, computer systems and design their internal database and I also designed some of the first webpages.
However, a big change occured in January 1998. When the International organisation asked if someone would like to take over the responsibility for the International website, iaeste.org. I received this challenge and decided to devote my time to this and thereby stopping most of my duties for IAESTE Denmark.
:: Top ::
International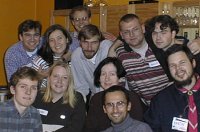 When asked if I would take over responsibility of the International website, iaeste.org, in January 1998. My first thoughts was that an International website should be under the supervision of an International team. So during the year, I put together a rough draft of the website, and invited the webteams from other IAESTE organisations in Austria, Czech Republic, Denmark, Germany and Norway. The first annual meeting of what would later be known as the IDT, Internet Development Team, took place in Copenhagen in October 1998.
During this meeting, the IDT became a reality. A team focused on delivering Internet based services to the International IAESTE community. The IT services involved the public website, iaeste.org. The Friends of IAESTE Network, The IAESTE IntraWeb, e-mail aliases for all members as well as public and private mailinglists. All of these services has grown in size and importance for IAESTE over the years and the importance has been recognized by the International community in such a degree that the IDT has been holding training sessions each year during their Annual Conferences since January 2001.
Building a team responsible for all these IT services in my spare time has not been an easy task. Running a team of 15-20 people from almost as many countries, having a budget about the same size as some of the smaller IAESTE countries has meant that my spare time has been heavily consumed by IAESTE. Which lead to me resigning from the post as IDT Coordinator in January 2006, after stepping down, I served as senior developer on the IntraWeb and advisor for almost 2 years, until I left the team completely, in the Autumn 2007.
Or, at least that is what I thought. In 2011, I was looking for a new project in my spare time, wishing to work with more cutting edge technologies as our custommers at work was focusing on older technologies. So I asked the IDT, if they would be interested in converting their 3rd generation IntraWeb into a 4th, using Java EE with a published API that any country to connect to as a backend system, known as IWS or IntraWeb Services. The idea was welcomed with open arms, as the 3rd generation tool was beginning to show sings of age and maintenance was getting harder. Although my initial idea was to map the IWS into the current 3rd generation tool, the team decided to move to a ne Java based frontend as well. In June 2012, we officially started development at a kick-off meeting in Prague - and in January 2014 the new system went live.
Following a very chaotic 2014, with all the expected child diseases, the frontend was turning more problematic than expected to fix. This meant that over the following 2 years, some extremely bad attempts at fixing the problems was made by the Board of IAESTE, which in the end meant that the Board made the decision to move away from the System and instead rely on a commercial solution for their needs.
As the IWS was a solid and reliable system, it was decided by the developers to make this, now mothballed, system Open Source so others may benefit from it.
:: Top ::